Selling Your Home
INTERNATIONAL REACH... LOCAL EXPERTISE
Are you looking to SELL YOUR HOME? You are in the right place !
We offer you the most complete and effective exposure for your home. When selling your home, you need global exposure in addition to the strong marketing expertise we deliver locally. We use cutting edge new technologies to sell our listings to NATIONAL and INTERNATIONAL buyers. With our Unique Marketing System, your house will be showcase WorldWide in English and Spanish.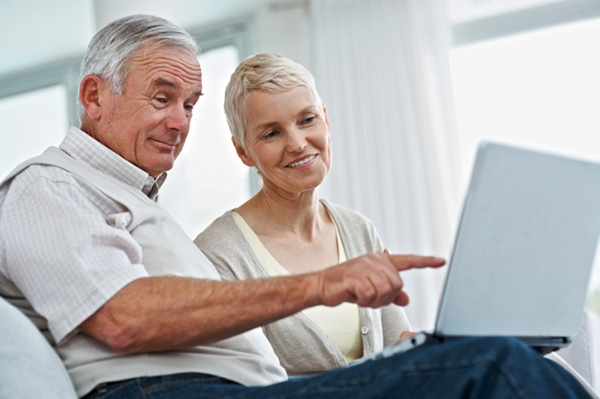 WHY SPANISH IS SO IMPORTANT TO PROMOTE YOUR HOUSE?
Spanish is the primary language of 20 Countries Worldwide. It is estimated that the combined total number of Spanish speakers is between 470 and 500 MILLION, making it the SECOND most widely spoken language in terms of native speakers. Spanish is the third most spoken language by total number of speakers (after Mandarin and English). Internet usage statistics show Spanish as the third most commonly used language on the Internet, after English and Mandarin.
---
Bilingual Representation & Effective Marketing System.
---
1. Bilingual Representation.
We offer a bilingual service as we work with NATIONAL and INTERNATIONAL buyers who speak English and Spanish. Hispanic buyers play an important role in San Antonio house market:
As the fastest growing population in the country, Hispanics had a projected buying power of $1 trillion in 2010 and it is expected to reach $1.5 trillion in 2015; that is a 50% increase. In San Antonio, Hispanic buying power accounted for $18 billion as of 2008 according to the Latino Business Review.
In 1980, the Hispanic population of Texas was just under 3 million. By 2040, there will be 18.8 million. This projection indicates that the Hispanic population in Texas will grow more than 500 % from 1980 to 2040.

TEXAS POPULATION GROWTH, 1980 – 2040.
Population projections, in millions.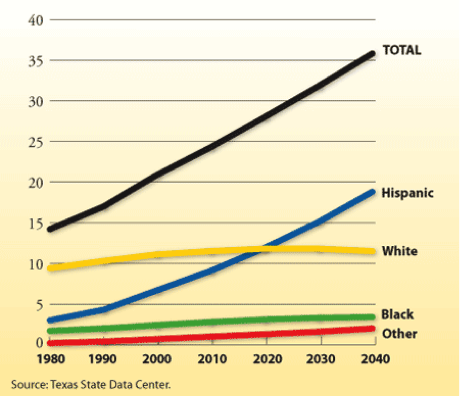 Source: Texas State Data Center
---
2. Effective Marketing System.
Our Marketing System merges EXPERIENCE and INNOVATION with cutting edge NEW TECHNOLOGIES. This system maximizes our listings exposure to NATIONAL and INTERNATIONAL buyers;

Market Evaluation.

Pricing Strategy.

Professional Photography.
Email Marketing Campaigns.

Social Media Strategies.
1 IN EVERY 8 PEOPLE ON EARTH IS ON FACEBOOK Facebook has been a proven success on the internet, this year will have 1 billion users.

Property exposure in Smart Phones and Tablets.
13.9 MILLION MOBILE SUBSCRIBERS ACCESS real estate info via mobile. This year there will be more internet searches via mobile vs. computer


Property Showcase on 350+ Websites.
There are 2.4 BILLION INTERNET USERS WORLDWIDE , almost twice what it was in 5 years ago. North America has gone from 233 to 273 million, a 17% increase. Latin America has gone from 110 to 236 million, a 114% increase in 5 years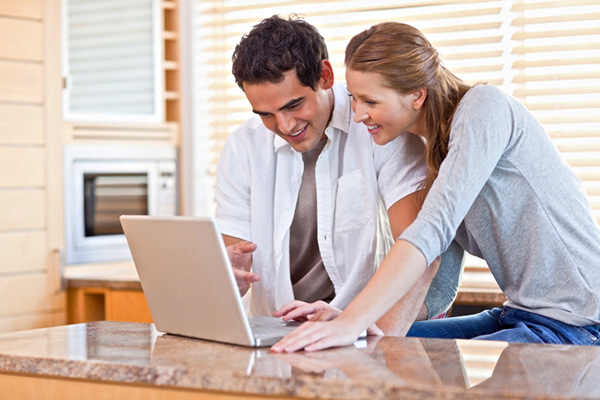 Property exposure in Real Estate Search Engines.
There are 31 BILLION SEARCHES ON GOOGLE EVERY MONTH, in 2006, this number was 2.7 billion

Agent Network.
NATIONAL ASSOCIATION OF REALTORS, Is the largest trade association in North America with over 1 million members. That is a big network that can help us sell your house.
CONTACT US TODAY FOR A FREE MARKETING CONSULTATION APPOINTMENT. NO OBLIGATION.
I WOULD WELCOME THE OPPORTUNITY TO BE INTERVIEWED TO SHOW YOU WHAT WE CAN DO FOR YOU.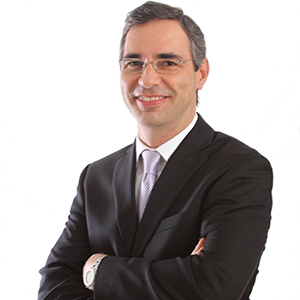 SINCERELY
ANDRES LAFUENTE. BROKER-ASSOCIATE
---

www.SanAntonioExceptionalHomes.com
www.CasasenVentaenSanAntonioTexas.com